Subscribe to online classes:
£10 monthly for 3 classes available for 24 hours a day; 2 x Zumba gold, 2 x Zumba fitness & 2 x Zumba toning.
unsubscribe :
Buy Class Credits for real life classes
I've disabled the ability to buy credits for real life classes, until we can recommence.

If you want to buy Zumba toning sticks from me for the ZUMBA TONING classes, please let me know as I have pairs of new sticks for sale. Alternatively do the class without them or see below on how to create your own :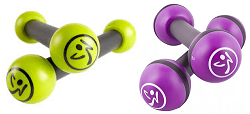 Zumba toning sticks
Buy light weight (yellow) = £15 (or £18 if you do not do my online or real-life community classes)
Buy medium weight (purple) = £21 (or £25 if you do not do my online or real-life community classes)
How to make your own toning sticks :
Grab 2 small plastic water bottles (empty) - make sure you can hold them comfortably in your hand.
Fill them with rice (uncooked!) or sand so they each weigh 450g/1lb.
Hand weights are not recommended, as there is no give in some of the more dancey movements and you're unable to shake the hand weights or bang them together! I've tried it - it is simply not as much fun! However, if you wish you can use light hand weights as an alternative and just rest the hand weights on your body (hips, shoulders) when we do funky stuff with our toning sticks. Hand weights should be light weight and weigh around 450g/1lb each.