ZUMBA toning
ZUMBA toning uses simpler choreography than normal ZUMBA and incorporates lightweight maraca-like toning sticks to encourage you to make conscious muscle contractions, focusing on the arms and back. Lower body moves and core exercises are added to various routines to get an all-over body workout.
Zumba toning** classes are available online and at Newport Pagnell Youth Club on Mondays @ 6.15pm (not Bank Holidays) at 6.15pm for 55 mins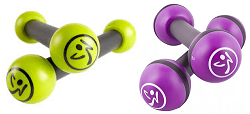 Zumba toning sticks
Hire toning sticks, per class = 50p or included if you bought Class Credits with toning stick hire
Buy light weight (yellow) toning sticks = £15 [SOLD OUT]
Buy medium weight (purple) toning sticks = £21 [SOLD OUT]
There have been manufacturing delays with the Zumba toning sticks and unfortunately I no longer have any new ones for sale. I do however have plenty of toning sticks available to hire in my classes or you are welcome to bring your own.
How to make your own toning sticks :
Grab 2 small plastic water bottles (empty) - make sure you can hold them comfortably in your hand.
Fill them with rice (uncooked!) or sand so they each weigh 450g/1lb.
Hand weights are not recommended, as there is no give in some of the more dancey movements and you're unable to shake the hand weights or bang them together! I've tried it - it is simply not as much fun! However, if you wish you can use light hand weights as an alternative and just rest the hand weights on your body (hips, shoulders) when we do funky stuff with our toning sticks. Hand weights should be light weight and weigh around 450g/1lb each.