ZUMBATHON MK 2016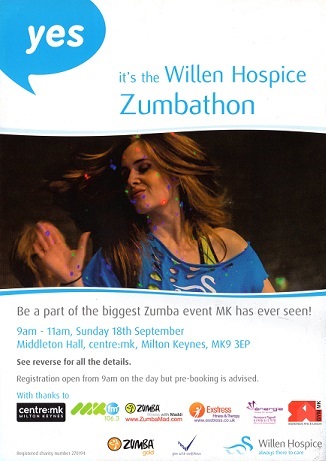 Sunday 18th September 2016
Taking place in Middleton Hall (in front of John Lewis) in the centre:mk, before the shops open for trade on the Sunday. Entry/registration from 9am.
Not just me, but *FOUR* fabulous Zumba instructors in total, bringing you Zumba Fitness and Zumba Gold for 90 minutes 9.30-11 am.
Join in for the full 90 minutes or bop in out of tracks as you like!
For more information and to buy tickets at a discounted rate in advance :
http://www.willen-hospice.org.uk/zumbathon
Raising money for charity, so please come and help make this Milton Keynes biggest ever ZUMBATHON!